Awards Committee
Committee Chair:
Amanda Withers
Crawford, Murphy & Tilly, Inc.
2750 W. Washington Street
Springfield, IL 62702-3465
(217) 572-1114
(217) 787-4183 Fax
awithers@cmtengr.com
Acting Committee Vice Chair:
Pat Schatz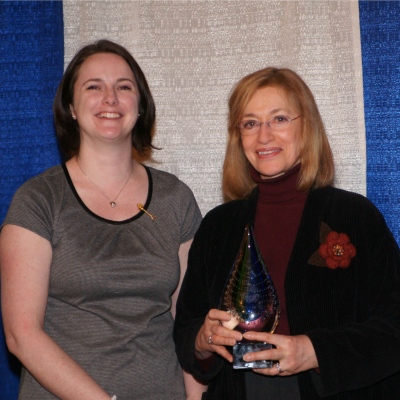 President Kendra Sveum with 2015 Public Official Award Winner, Laurel Prussing, Mayor of the City of Urbana, IL.
Awards Committee Members
Amanda Withers, Chair – Crawford,Murphy & Tilly (YP)
Sam McNeilly – City of LaSalle
Robert Brummond – (retired) Lake County Public Works
Norm Rose – (retired) MWRDGC
Pat Schatz – City of Kankakee, Environmental Services Utility
Lou Storino – MWRDGC
John Lamb – City of St. Charles
Dan Small – Strand Engineering (YP)
Committee Description
The Awards Committee has been established to solicit and to evaluate nominations for the annual WEF and IWEA awards and present our selection to the IWEA Board. It is also our responsibility to prepare the awards presentations for the Annual Banquet, which includes: notifying the award winners, ordering the awards and preparing a brief presentation for each award. In addition, the committee is to prepare any necessary documents for submittal for any national WEF award. We are to provide pertinent information for the Clarifier newsletter regarding the awards (i.e. announcing the award winners and soliciting award nominations). It is also the Awards Committee's responsibility to develop the criteria for any new proposed IWEA award as recommended by the IWEA Board. The Awards Committee works closely with the Newsletter, Marketing, Website, Local Arrangements and Annual Conference Committees to accomplish our objectives.
The Awards Committee yearly objectives are:
To receive nominations for all the available WEF and IWEA annual awards by seeking actively nominations through the Clarifier newsletter, e-news and IWEA website
The Deadline for the award nominations is October 1st every year and the committee's selected winners are presented at the December IWEA Board meeting for approval
To notify the winners and prepare the award presentations for the Annual Banquet and to procure the winners photo for the Awards Wall of Fame.
To supply the Marketing Committee the award winner's information for the press releases and have an article announcing the award winners in the Clarifier
To possibly have a nomination prepared for a WEF national award